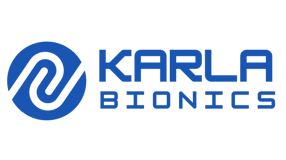 Social Innovation Award
In the 11th edition of the Lee Kuan Yew Global Business Plan Competition (LKYGBPC), Karla Bionics, as the sole finalist from Indonesia, received an award in the Social Innovation category from the INTA Foundation.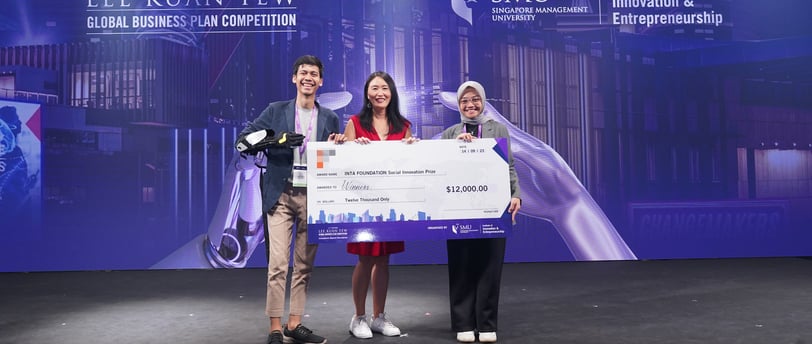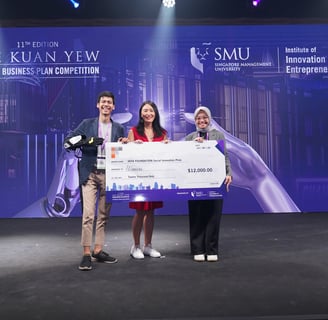 Singapore, September 15, 2023 – Karla Bionics, as the sole finalist from Indonesia among the top 50 teams, or RLTV50, in the global competition, the 11th edition of the Lee Kuan Yew Global Business Plan Competition, received an award in the Social Innovation category from the INTA Foundation.
The cash award of $24,000 from the INTA Foundation aims to recognize and reward two startups that, despite facing various challenges, have demonstrated the potential to create a positive social impact through their exceptional branding and intellectual property efforts. Additionally, Karla Bionics also received an award from The Maybank ASEAN Startup Award, a cash prize of $25,000 SGD given to the top 14 startups in ASEAN.
Karla Bionics, a startup originating from the Bandung Institute of Technology (ITB), focuses on empowering individuals with disabilities by developing assistive devices with an appropriate technology approach. This means that the technology they develop is tailored to the socio-economic conditions in Indonesia. Their campaign, "Empower difabel to become proudactive," aims to be a part of the transformation of individuals with disabilities from being disabled and powerless to becoming differently-abled persons, marked by embracing differences and actively seeking their potential and collaboration. Karla Bionics hopes that individuals with disabilities can reach the proud-active (productive) stage, where they take pride in their differences and contribute to society by utilizing their full potential.
One of the innovative technologies they've developed is an assistive device for individuals with upper limb amputations called "Raga Arm," which blends bionic aesthetics. The "Raga Arm" has been tested in international technology competitions for individuals with disabilities, such as CYBATHLON Challenges 2022 and 2023 at ETH Zurich, Switzerland. It features two Patent Pending Technologies: the Adjustable Socket System (ASS) and the Versatile Gripping Technology (VGT). This technology has achieved global recognition and received a Gold Award at the Indonesian Healthcare Award 2022.
Alya Hanun, Founding Member and Chief Marketing Officer (CMO) of Karla Bionics, stated, "We are honored to receive this award because through Karla Bionics, we dream of an inclusive society where all individuals with disabilities can empower themselves. Participating in this competition opens up opportunities for us to gain insights and connections that can benefit not only our country but also the world." She added that it's inspiring to see that innovative technology with a focus on Indonesia's socio-economic conditions can inspire countries worldwide, including India, Argentina, Ghana, Israel, as well as developed nations like Singapore, the UK, China, and the United States.
Alya Hanun, the only founding member of Karla Bionics who is still a student, also emphasized that making a social impact doesn't require age limitations. Karla Bionics seized this opportunity because she dared to market the Raga Arm prototype, which was still in development by one of Karla Bionics' Co-Founders, who is also her professor.
Arief Indra Muharam, Chief Executive Officer (CEO) of Karla Bionics, said, "The Raga Arm technology may not be the most advanced, but it is hoped that it can help overcome the main obstacle faced by individuals with disabilities, which is the confidence to interact with their immediate environment." He added, "This international recognition is not the end but rather an additional source of energy to continue Karla Bionics' mission to have a positive impact on social change, especially in Indonesian society before eventually impacting the world."
The 11th edition of the Lee Kuan Yew Global Business Plan Competition (LKYGBPC)
The Lee Kuan Yew Global Business Plan Competition (LKYGBPC) is a prestigious biennial university startup challenge in Singapore, organized by the Institute of Innovation and Entrepreneurship (IIE) at the Singapore Management University.
The LKYGBPC takes its name from the founding Prime Minister of Singapore, who developed a business plan that defined the nation and propelled it onto the global stage. The competition reflects the spirit of entrepreneurship, innovation, and high ambition.
With the theme "Innovation Beyond Borders," the 11th edition of LKYGBPC gathered the brightest minds from the most entrepreneurial universities worldwide to address 21st-century challenges and envision a smarter, sustainable, and resilient future. There were five focus areas this year, including Urban Solutions and Sustainability; Manufacturing, Trade & Connectivity; Human Health & Potential; Smart Nation & Digital Economy; and Media & Entertainment.
The 11th edition of LKYGBPC set a new record by attracting 1,000 registrants. Represented by 1100 universities, 73 of them rank among the top 100 universities globally.
INTA FOUNDATION
INTA Foundation is a charitable organization working to expand educational and professional development opportunities in the field of intellectual property (IP) for diverse and underrepresented populations worldwide. Their mission is to provide access to educational and empowerment activities in the areas of diversity, equality, and inclusion, while supporting individuals and organizations globally contributing to these important issues.
MAYBANK
Maybank is one of the leading banking groups in Asia and the fourth-largest bank in Southeast Asia based on assets. The Maybank Group has an international network with over 2,600 branches in 18 countries, including 10 ASEAN nations, and employs more than 42,000 staff serving customers worldwide. This positions the bank well to provide smooth banking services to support entrepreneurs in the ASEAN region to build and grow their businesses in partnership with Maybank as their banking partner.